Tasting of Smoked Beers, Part II
July 24 2014 - 1:00 PM
Last week we reviewed smoked hefeweizens by Schlenkerla and Gigantic. Part two will be about the Smoked Helles Lagers. Helles lagers are different to pilsners in that they are a malt-accentuated beer that is not overly sweet, but rather focuses on malt flavor with underlying hop bitterness in a supporting role.
Lake Effect/Finch's "Meeting of the Minds" (Chicago, IL)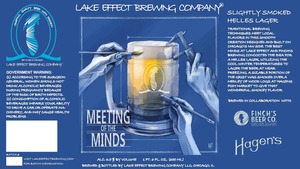 Though I am not a fan of Finch's, Lake Effect has been offering some solid beers especially of the sour variety. These two northwest side breweries teamed up with another staple in that corner of the city, Hagen's Fish Market, to create this beer.
The biggest of the four beers here at 6.5% this beer is unusual for a helles which is usually around 4.5-5.5%. It also does not have the honey-like dough quality that is the foundation for a helles. An amber-orange color, which is a darker hue as well, sets up the drinker for a beer that has aromas of bread, heavy smoke, and earthy hops.
The overall taste has a caramel feel to it, with a good amount of smoke and a faint toffee quality at the end. This is a beer that I believe these two breweries either did not want to do a low ABV or did not feel comfortable doing a smoked beer at a low ABV. In the end, the vastness of the beer unbalances it and it has morphed into something that is not a Helles.
Aecht Schlenkerla Helles Lagerbier

A unique beer unto itself! A beer that uses no smoked malts, but has a residual smoky character. Though it is not classified as a smoked beer, this beer has the markings of one, and I wished I knew how the Heller Brauerei did it. Helles is brewed with fine Bavarian aroma hops from the area around the city of Nürnberg. I believe the trick with the residual smoke character comes from the brewery making this beer in the same copper kettles as their famous Rauchbier while also using the same yeast as they do for that beer.
At 4.3% ABV this is a prime example of a Helles and how to make a full-on flavored session beer. A clear, golden beer that has a grainy-sweet aroma coming from the Pils malt. The taste is like warm biscuits with honey on them and then just at the end, in a supporting role, is subtle smoky flavor that wraps around the mild hop bitterness while supporting, and balancing, the malt sweetness.
Though both hefeweizens were well made and marvelous, I believe the bigger revelation was the Schlenkerla Helles with the amount of flavor, depth, and subtlety it had. Though the Lake Effect and Finch's collaboration could not stand up to the other three I do commend them on using woods that one does not often see in smoked beers. With grilling season in full swing there are few beers that pair so well with the grilled food and because of the slight uptick in smoked beers here in Chicago that are available plus the variety of beer styles that are being smoked they pair well with any flavor that is coming off that grill. Be it sweet, sour, salty, bitter, or umami.
Photo Credits: Beer Syndicate, Wine & Cheese Place